Dixie Lee Baie-Comeau : Menu boards
23 April 2019

|

Digital menus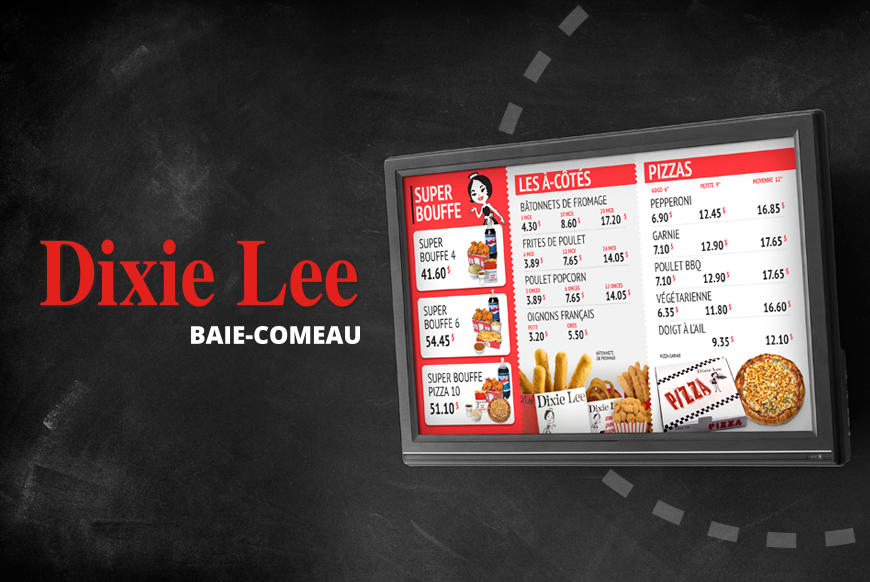 Quebec restaurant chains are modernizing! Dixie Lee Baie-Comeau now displays its prices and products on screen thanks to the iShopFood menu boards technology. Go directly to the restaurant to order a delicious meal of fried chicken or seafood, promoted by a modern and dynamic menu!
The best fried chicken in town!
Dixie Lee of Baie-Comeau has been a well-known family restaurant in the region for over 40 years. It has been run by Marie-Ève ​​Pelletier and Benoît Carrière since 2010. The menu specializes in delicious fried chicken meals, seafood, pizza, desserts, salads and more. Everything is served with a smile in an inviting and warm atmosphere.
A fast and courteous service awaits you in addition to a play area for children near the dining room. The takeaway ordering service is offered by the restaurant, whether you are alone or in a group. You can enjoy the many specialties of the menu on site or at home with your family.
iShopFood puts some color in!
Always eager to optimize their services and offer quality products, the Baie-Comeau restaurant has partnered up with iShopFood. Indeed, Dixie Lee now displays its products on screen via menu boards.
A customized concept was produced based on the number of items and the various formats available to customers. Thus, the menu is presented dynamically with an improved visual quality. Promotions and discounts can also be put forward easily thanks to an adapted and versatile design. A system was put in place to insure a turnover between specific sections of the menu. In addition, the information is perfectly synchronized with the POS system in place at Dixie Lee. This way, prices are updated in real time. In short, Dixie Lee innovates and optimizes its display services thanks to iShopFood!
To learn more about iShopFood's menu boards services and technologies, visit our information page.