iShopFood : Dynamic menu boards for restaurant
25 September 2019

|

Press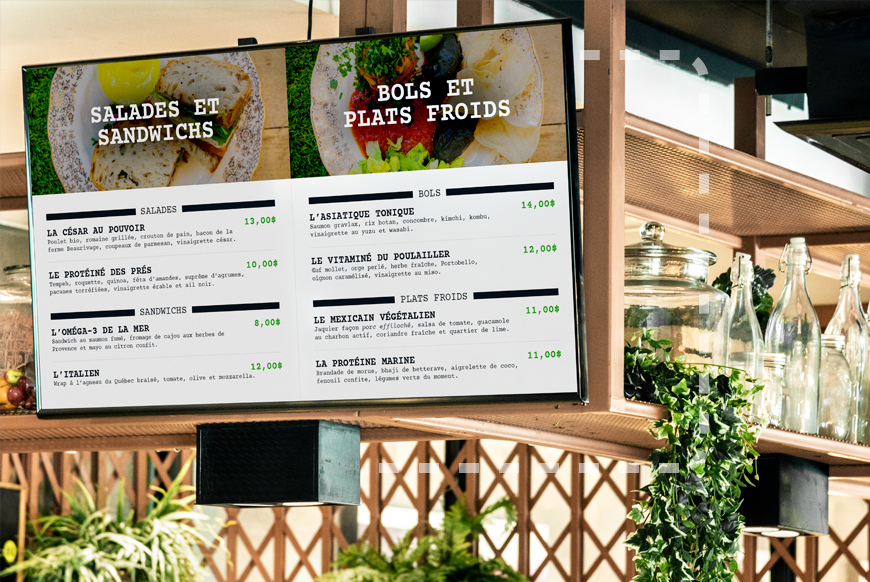 Want to modernize the presentation of your menu in your restaurant? The iShopFood menu boards service allows you to present the products of your restaurant and your entire menu with a personalized visual! Indeed, take advantage of an ideal advertising space to put your items and discounts forward.
A customized menu
With iShopFood's menu boards service, you get a simple and effective way to present your restaurant and its menu. The service consists of replacing the traditional display of your menu with quality screens. The desired products and menu sections are displayed on these screens with a visual designed in-house. Our in-house graphic designers will work with you to design the perfect menu for your needs. You have the option to insert images or videos to promote certain products and specials. In addition, you can focus on some new products with custom animations. In short, iShopFood's menu boards give you all the tools to put forward your menu and your featured products. Ideal for restaurants offering services at the counter, the iShopFood menu boards service ensures optimal communication of your menu to your customers.
Direct link with your POS
Like other iShopFood services, menu boards are 100% synchronized with your existing POS system. In fact, corrections made to the products on your POS system, on the online ordering platform, and on the slef-serve kiosk will also be made to the products on screen. Thus, you can easily change names, descriptions and prices on all of your ordering or display platforms. iShopFood offers you a simple service that optimizes the management of your company!
Modernize the architecture of your establishment with dynamic and inviting menu boards! Present your menu with a customized visual and personalized animations! Learn more about our services by visiting one of our information pages. In addition, you can contact us by filling out this form and get a solution tailored to your needs!