Pizza Mivan : Menu Boards
15 January 2020

|

Online ordering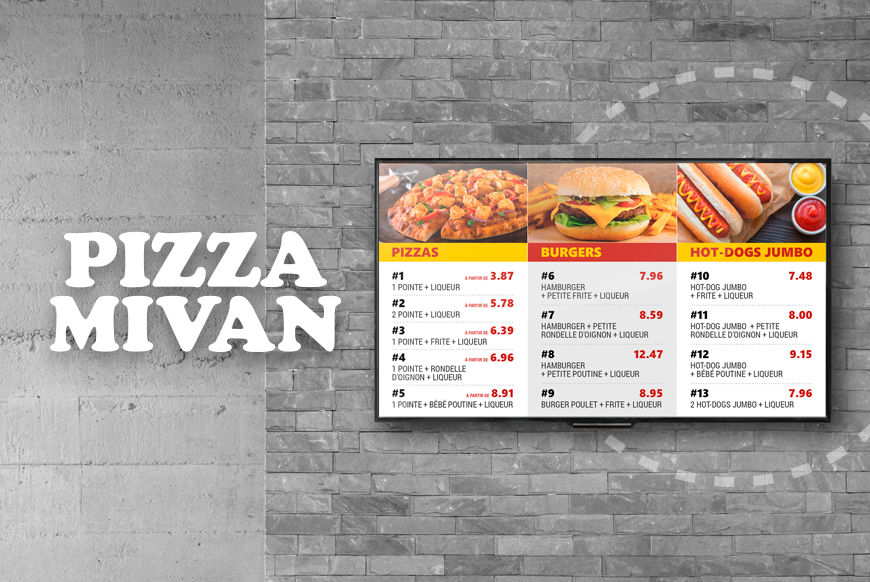 iShopFood partners up with Pizza Mivan and offers digital menu boards! The establishment now displays its menu via the display service created by the iShopFood team. Mivan optimizes its services thanks to iShopFood!
Fresh products offered by Mivan
Pizza Mivan offers a wide selection of delicacies prepared on site with quality ingredients. Treat yourself to a delicious pizza or taste the restaurant's famous french fries and poutines. Several products are available to satisfy any type of appetite, big or small. Mivan also offers many special items and several choices of combos that will satiate the big eaters!
Products are prepared on demand by qualified employees. Indeed, each dish is full of flavor and freshness! Everything is served in a friendly and warm atmosphere. In short, taste the difference with Mivan and their snack specialties!
Partnership with iShopFood
Pizza Mivan optimizes its menu! Indeed, thanks to its association with iShopFood, Pizza Mivan now offers digital menu boards for its customers at the counter. All the products offered by the Sherbrooke company are displayed on screen with a personalized visual and attractive photos. A sure way to attract the biggest food fans!
In addition to being custom-designed, the Pizza Mivan digital menu board is fully synchronized with the company's POS system. This way, the changes made on the POS are made directly to the products displayed on screen. The display is greatly simplified and the maintenance of product information is optimized. Pizza Mivan improves and modernizes its service thanks to iShopFood!
Take advantage of the menu board service offered by iShopFood right now. Learn more about our services by visiting one of our information pages. In addition, you can contact us by filling out this form and get a solution tailored to your needs! And do not forget to follow us on Facebook!