Aki Sushi: Hundredth counter opening
18 December 2018

|

News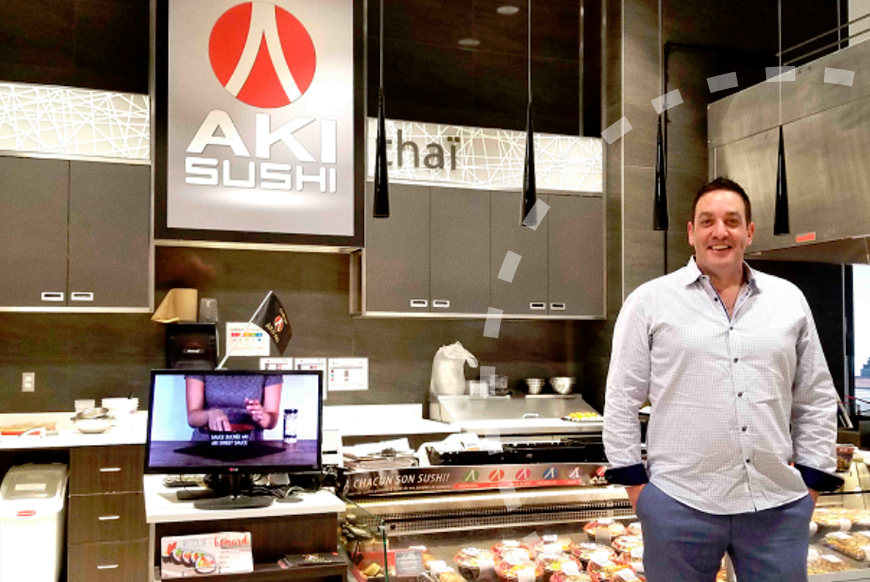 Aki Sushi continues its expansion in the world of fast cuisine! Founded by Claude Guay, the chain has been operating since 2005 and has seen a huge rise and constant presence since its foundation. That's why iShopFood is proud to announce that the Aki Sushi chain has just opened a hundredth counter-restaurant in the Metro grocery store! Eating delicious sushi at competitive prices has never been easier with Aki Sushi!
A unique identity
Aki Sushi has distinguished itself with a wide selection of Japanese and Thai specialties. The various products offered by the chain are available at the counter-restaurants in the Metro grocery stores, but also via the iShopFood online ordering. In addition, Aki Sushi has its own online ordering mobile application: AkiFan. The app offers a loyalty program, allowing the chain's customers to save money while having access to exclusive promotions.
With all its services at the disposal of the customer, it is clear that offering a complete and efficient service as well as quality products are at the center of the priorities of Aki Sushi. Indeed, through productive restaurant counters and advanced online ordering, the chain can ensure that every customer gets fresh and tasty meals quickly.
A promising future
With the opening of its hundredth counter, Aki Sushi continues its expansion in the province of Quebec. Aki Sushi dishes are also available at Aki Thai restaurants. In addition, the chain offers a variety of tartare and sushi products in the Metro grocery store. With so many strings to their bow, the company can count on a bright future ahead. iShopFood will stay close to support Aki Sushi in its expansion!
Enjoy the freshness of Aki Sushi products now by visiting the nearest Aki counter. Download the AkiFan app to benefit now from a custom loyalty program and exclusive promotions. Everything to satisfy your sushi desires!
The AkiFan app is available on the App Store and Google Play.