Carré de Terre : Self-serve kiosk
16 July 2019

|

Self-serve kiosk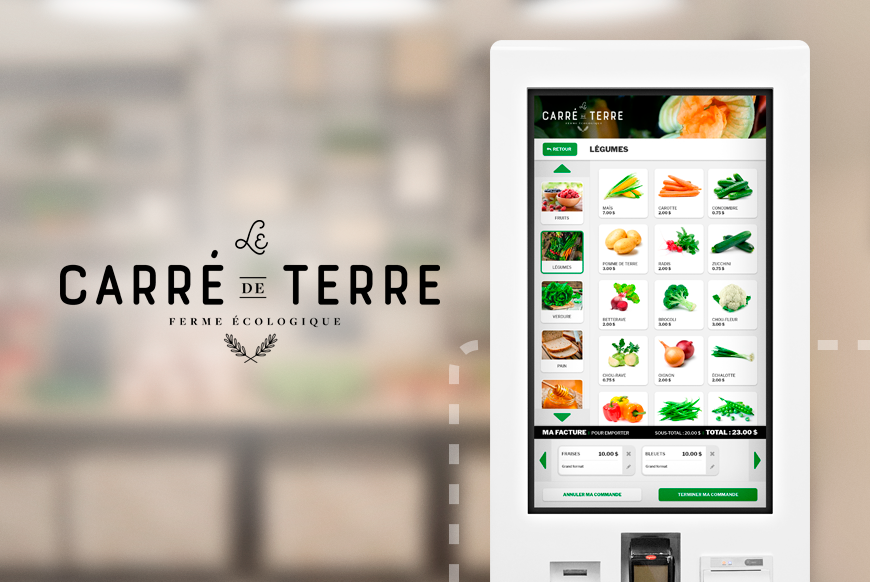 Back to the agricultural roots, with a touch of modernity! The Carré de Terre Farm now allows its customers to order via the iShopFood self-serve kiosk. The establishment can thus optimize its services and increase its sales!
Promote agriculture and responsible alimentation
In recent years in Quebec, the benefits of a healthy diet have been put forward. The benefits are known and understood; people are sensitized. To meet a demand for local products in a more natural way, the new generation of farmers is trying to get closer to its roots. Agriculture seeks to reinvent itself. The Carré de Terre team jumped in the wave, going from everything to everything; that is to say, a bovine production intended for large businesses, a small market gardening production. The farm itself ensures its marketing and does not use chemical fertilizers or chemical pesticides on its products..
In order to market their products themselves, the Carré de Terre team opened a booth in the heart of the village of Notre-Dame-du-Bon-Conseil. The place is easily accessible on foot, close to people and pleasant to access. The Farm seeks to provide a small-scale market experience, at the very heart of its community. Guests are greeted by a professional and courteous team.
iShopFood: Proud partner of the local industry
It is with an objective to meet an ever increasing demand that Carré de Terre Farm has used iShopFood services. The Carré de Terre Farm installed a self-serve kiosk directly at the sales booth. Customers can select local products and the desired size or quantity. As a result, sales are faster and more efficient, and the number of customers served greatly increased. The new generation of farmers is getting closer to its roots while modernizing its services!
To learn more about the iShopFood self-serve kiosk service, visit our information page.