Chocolato : Self-serve kiosk at 2 branches
23 July 2019

|

Self-serve kiosk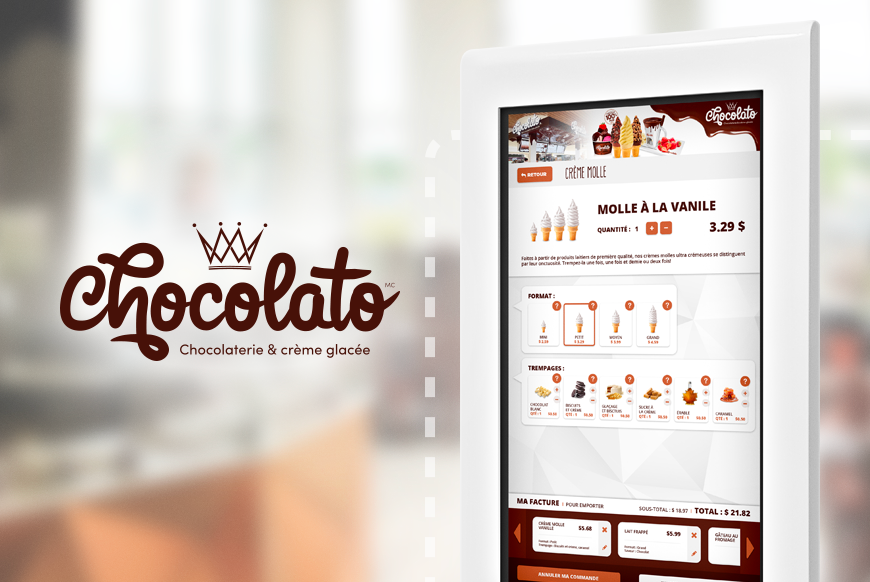 The iShopFood self-serve kiosk is now in 2 Chocolato branches! You can order a completely personalized ice cream treat to your liking. Fighting the heatwave has never been easier!
The best chocolate in the world
At the crossroads between the chocolate factory and the ice cream shop, Chocolato invites its customers to an extraordinary experience. Passionate about chocolate, the company offers 20 choices of pure chocolate dips, several types of treats and a multitude of frozen dishes: soft cream, artisanal gelato, frozen sandwich, sundae, sorbet or homemade dessert.
Proud of the quality of its products, the chocolate and chocolate ice cream Chocolato exploits a 100% pure chocolate to create flavors with a rich and unique taste. At Chocolato, discover an unrivaled taste experience in a clean, modern and thematic decor. On hot days, our concepts with storefront greet you on their terraces with facilities for young and old, and soon a drive-through service (in some establishments). In short, Chocolato is where your chocolate dreams come true!
Partnership with iShopFood
The iShopFood self-serve kiosk now allows the branches of Rue Saint-Jean and Sainte-Foy to offer an even more optimal service! Customers can feast on custom frozen treats via the kiosk. In addition, employees can better respond to customers, avoid mistakes and ultimately ensure a cordial and warm welcome.
Chocolato can also use the terminal's home screen to promote its wide variety of products. Indeed, it is the ideal place to display the flavors of the moment as well as the current specials and discounts.
We invite you to go yourself to try the self-serve kiosks at the branches:
Rue Saint-Jean Branch :
1015, rue Saint-Jean
Québec (Québec) G1R 1R8

Succursale Sainte-Foy Branch :
2327, boul. du Versant-Nord
Québec (Québec) G1N 4C2
To learn more about the iShopFood self-serve kiosks, visit our information page.