Dixie Lee Charlesbourg : iShopFood services
29 March 2016

|

Online ordering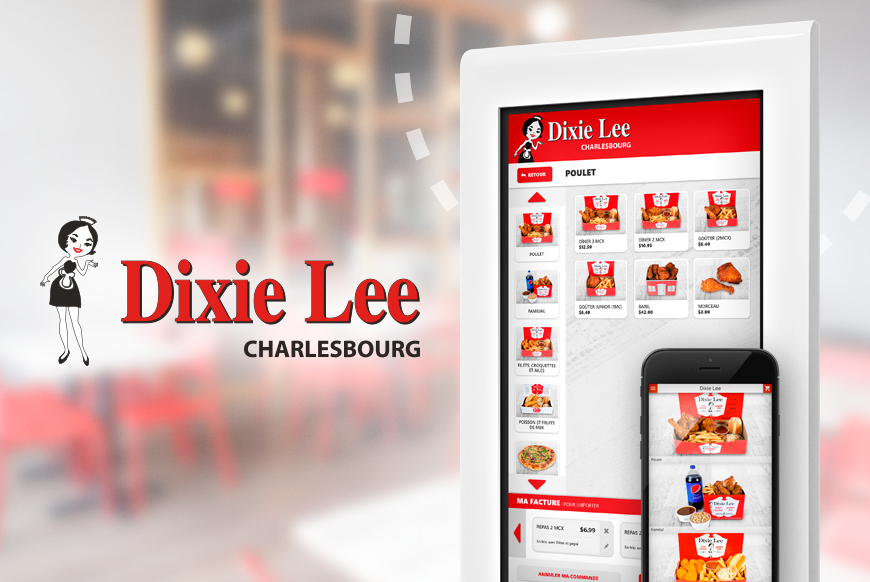 A reference in the field joins the iShopFood family! Dixie Lee Charlesbourg now has all the iShopFood services to serve its customers: Self-serve kiosk, online ordering and menu boards! In short, all you need to easily enjoy a Dixie Lee meal with your family.
An innovative restaurant!
Dixie Lee sees itself as both the oldest and the most innovative restaurant. The fame of its succulent chicken has been around Quebec! Its pizza is also gaining popularity day by day. A unique recipe, premium ingredients, state-of-the-art equipment is what gives you a delicious meal. ishopfood considers the Dixie Lee restaurant as an extremely beneficial addition to their customers. Allowing consumers easy access to what the restaurant offers is obvious.
Do not delay and enjoy the delights Dixie Lee restaurants can prepare for you! In the comfort of your home, iShopFood allows you to enjoy a delicious meal in a simple, effective and fast way!
Partnership with iShopFood
iShopFood is proud to announce its new partnership with the Quebec establishment! Indeed, Dixie Lee Charlesbourg now offers the ordering services in its establishment : Online ordering and self-serve kiosks. Customers can take advantage of two brand new ordering methods for quick and easy service! In addition, the menus of the restaurant are displayed on screen thanks to the iShopFood menu boards.
Have your meal prepared in advance and be notified as soon as it is ready. Take advantage of their new delivery service as well! With iShopFood, the speed of execution of the order will make you want to rediscover the tantalizing menu of Dixie Lee. The online ordering service is available on the company's website and Facebook page.
To learn more about all iShopfood services, visit our information pages. Contact us by filling out this form to get a customized solution for your needs!