Horace : Self-serve kiosk
29 July 2019

|

Online ordering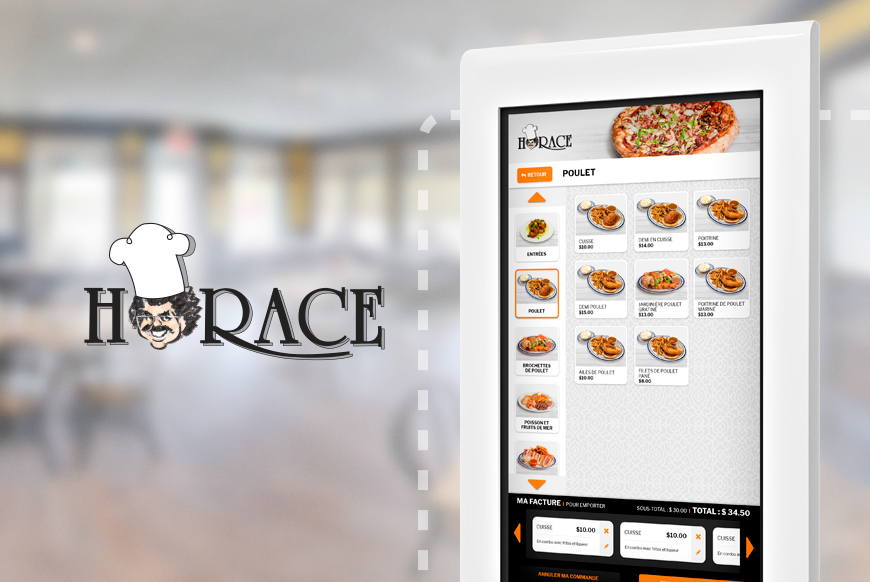 An institution in Drummondville partners up with iShopFood! Horace now allows its customers to order via the self-serve kiosk. A wide and tasty menu is available thanks to an intuitive and efficient interface. Opt for an excellent family meal on the go!
A restaurant where all cravings are satisfied
Recognized by residents of the Center-du-Québec region since 1977, Horace quickly became a true institution in the region. Indeed, a diversified menu and a quality service helped to build up the reputation of the restaurant. Steaks and grills, seafood, generously garnished pizzas and tasty lunches are waiting for you. Even the poutine of the restaurant is recognized throughout Québec for its freshness and flavor.
Proud of its history, the establishment has overcome many challenges. After more than 40 years serving the local population, projects still abound at Horace. Innovations continue in the establishment. Indeed, several improvements are being implemented to ensure the continuity of this institution in Drummondville. For a good meal with family or friends, the best place in the region is still Horace!
iShopFood invites itself at Horace
In order to continue on the road of innovation, the Drummondville restaurant has become a partner with iShopFood! Indeed, Horace now has its own self-serve kiosk for customers at the counter.
The restaurant's clientele can easily order a personalized meal and avoid queues at the counter. As a result, Horace can increase sales and optimize services. In addition, the kiosk's interface proudly displays the colors and branding of the establishment. The menu is presented with photos and customizable ingredients. The home screen is also used to highlight the most popular products. Discounts and promotions can be accessed directly on the kiosk. In short, iShopFood technology is used to its full potential!
Do you need more information on iShopFood's self-serve kiosk? Check out our service page!