iShopFood in the 2019 HRImag issue
15 February 2019

|

Press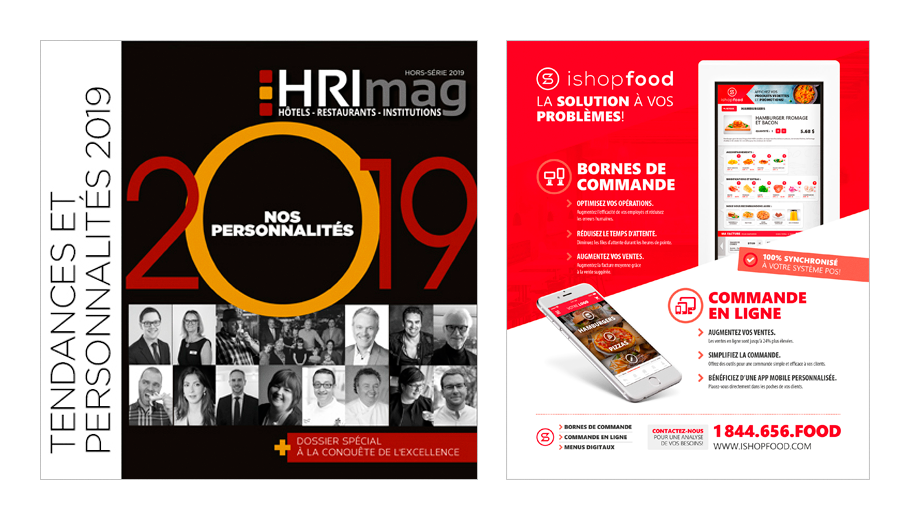 iShopFood expands its communication network! An advertising page for iShopFood and its services is available in the 2019 HRImag magazine : Trends and Personalities special issue. We mainly promote self-serve kiosks and online ordering services. IShopFood technologies are now well known to professionals in the catering and hospitality industry.
HRImag, a reference in the field
Since 1996, HRImag has been the reference for professionals in the hotel, restaurant and institutional sector. HRImag is an independent French-language magazine that offers cutting-edge information on the HRI environment (hotels, restaurants and institutions).
It covers topics of interest to decision-makers in these industries, such as business management, events and exhibitions, suppliers, trends and industry news for the Quebec, Canadian and international markets. This publication has also been known throughout the years as the HRI magazine and the magazine Hotels, Restaurants & Institutions.
A colorful year for iShopFood
iShopFood continues to offer a tailored service to its customers and partners. The year 2019 marks a great leap for the company. In fact, new services, functions and products will be made available to restaurant owners and managers. Our goal is to continue to provide a professional and always innovative service to all our associates. In short, rigor, competence and listening are the watchwords to offer you a performance that exceeds your expectations and your needs. We will continue to serve you throughout the year 2019!
Stay tuned for iShopFood news and upcoming releases, and don't forget to pick up your copy of 2019 HRImag. Good reading!
To learn more about all of our services and iShopFood ordering technologies, visit our information pages. You'll be able to find out about the numerous advantages brought to your business by online ordering, self-serve kiosks and digital menu boards. Informations on custom services are also available. You can also contact us directly by filling this form. We will take care to propose a solution based on your needs and expectations!