iShopFood in the 2018 HRImag issue
1 December 2018

|

Press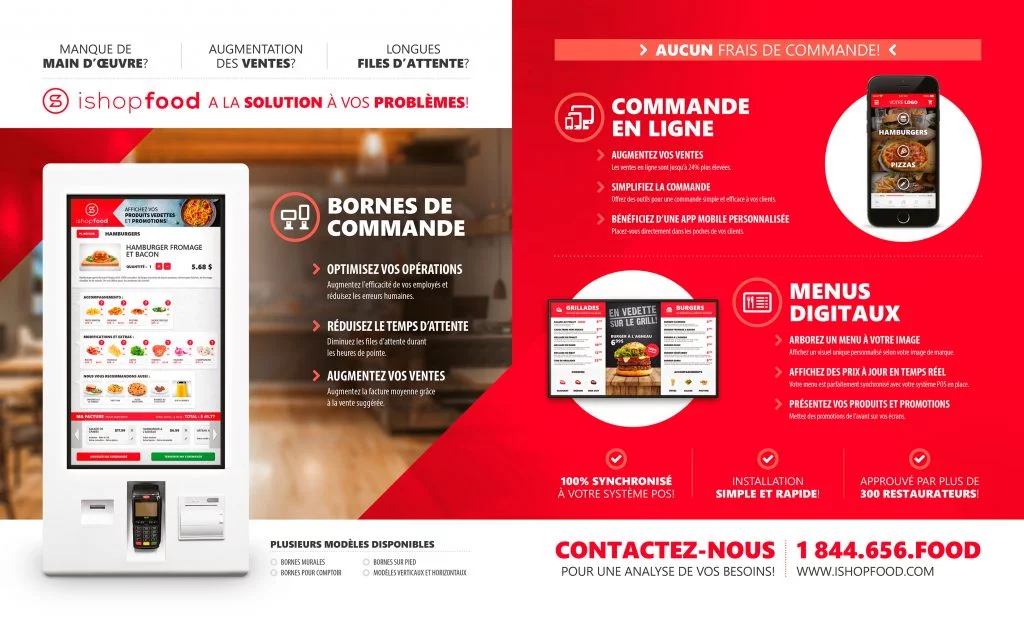 iShopFood makes the ink run! An advertising page for iShopFood products is available in the 2018 winter HRImag magazine. We mainly promote self-serve kiosks, menu boards and online ordering service. IShopFood technologies are well known to professionals in the catering and hospitality industry.
HRImag, the magazine for professionals
Since 1996, HRImag has been the reference for professionals in the hotel, restaurant and institutional sector. HRImag is an independent French-language magazine that offers cutting-edge information on the HRI environment (hotels, restaurants and institutions).
It covers topics of interest to decision-makers in these industries, such as business management, events and exhibitions, suppliers, trends and industry news for the Quebec, Canadian and international markets. This publication has also been known throughout the years as the HRI magazine and the magazine Hotels, Restaurants & Institutions.
iShopFood aims high
HRImag's target services are exactly the markets for which iShopFood was created and for which our platforms make a real difference. Indeed, the current reality of the employment situation, changes in consumption habits and the growing interest in technologies are causing increasing demand for our services. iShopFood helps to improve sales, optimizes expenses and above all provides greater peace of mind to our customers by automating their operations! Restaurants can get what they need to continue to offer quality services in a changing time.
Our platforms continue to optimize the services of hundreds of restaurants! New users utilise the command platforms each week and and can expect get the best service available on the market. Find the promotion of iShopFood services in the 2018 HRImag issue. Good reading!
To learn more about all of our services and iShopFood ordering technologies, visit our information pages. You can also contact us directly by filling this form. We will take care to propose a solution based on your needs and expectations!