iShopFood: Present your menus with digital menu boards!
30 October 2019

|

Digital menus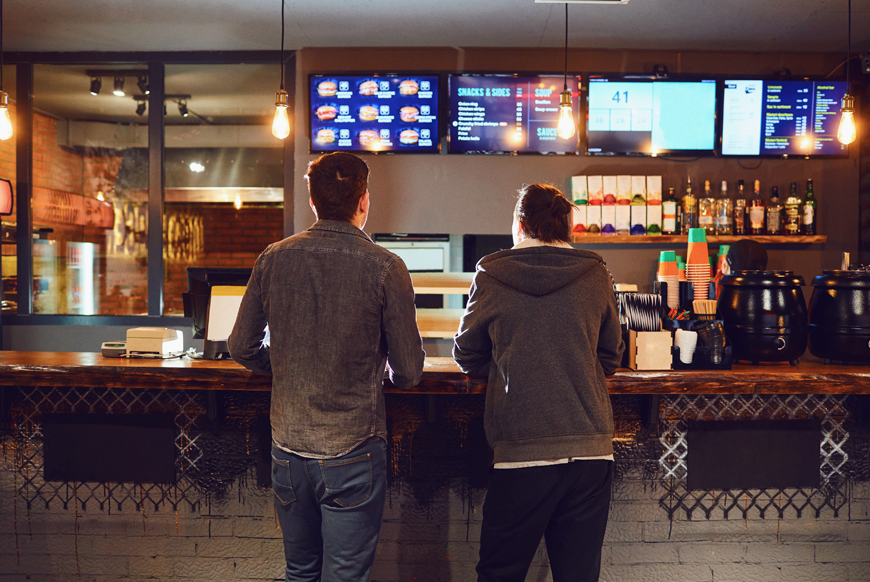 iShopFood allows you to modernize all the services offered by your company, including the presentation of your menu at the counter! Our menu boards service for restaurants designed by our team showcases your products in a big way.
A modern and captivating design!
The first thing customers will look for at the counter will be your menu: Welcome them with a series of screens featuring a custom design that's actual and interesting!
Animate your display!
Add a touch of fantasy to your menu while presenting information in a clear and straightforward way. For example, put focus on some products with animated graphics or intercut your sections with custom animations. The possibilities are endless with iShopFood!
Easily edit your menu.
The menu boards service offered by iShopFood is perfectly synchronized with your POS system in place. This way, changes that are made directly to your products, including prices and descriptions, are also made to your displayed menu. Via our management interface, all iShopFood services are also easily modifiable!
Show them what you got!
Integrate animated videos and edits into your menu to make your menu boards even more inviting! iShopFood can even design animated sequences for the promotion of your products and services!
Promote your discounts and special offers.
With a custom design based on your menu, you can use a section of your display for the promotion of your special offers. In fact, display promotional images, animated sequences or videos announcing the specials and discounts of the moment as well as new products!
Offer a unique experience to your customers and opt for the menu boards services for restaurants offered by iShopfood! Learn more about our services by visiting one of our information pages. In addition, you can contact us by filling out this form and get a solution tailored to your needs! And do not forget to follow us on Facebook!