iShopFood: The optimized self-serve kiosk
5 September 2019

|

Press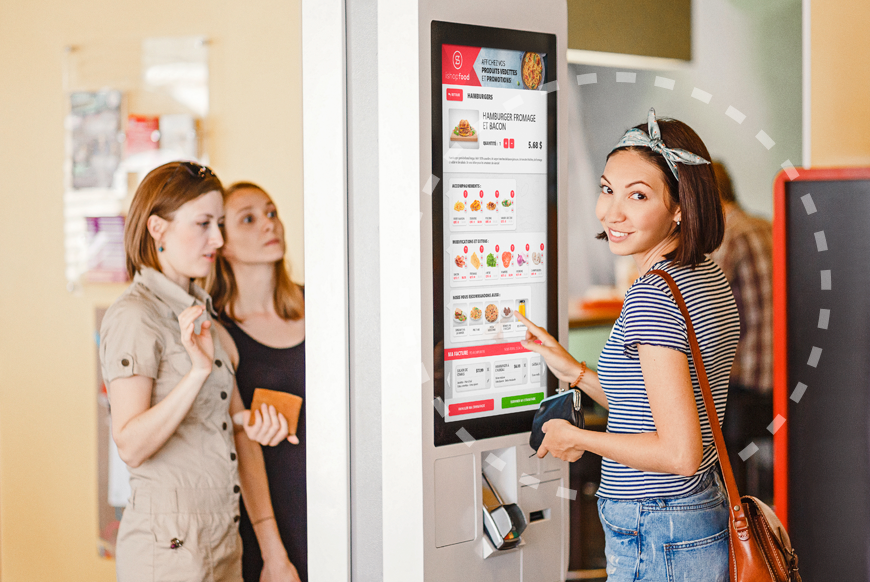 At the cutting edge of technology, the iShopFood restaurant self-serve kiosk allows you to modernize the services of your company. It is more and more popular in the restaurant and supermarkets world. Indeed, this order option is a tool of choice for entrepreneurs!
A kiosk that hits the target!
Like a full-fledged employee, the iShopFood restaurant self-serve kiosk pushes your business into a new era of modernity. It has an intuitive interface and a custom ordering process. Thus, the terminal is a particularly effective alternative ordering method. Orders are sent directly to the kitchen and potential human errors are reduced considerably. In addition, the kiosks are equipped with integrated payment systems allowing customers to carry out their entire transaction directly on the machine. This way, the kiosk reduces wait times at the counter and increases the influx in your establishment!
A machine at your company's service
In addition to an accurate ordering system and a visual putting your products ahead, the iShopFood restaurant self-serve kiosk offers you the opportunity to exploit upselling. Indeed, offer your customers various products, extras or accompaniments according to their order. In addition, you can display discounts and promotions via the kiosk's advertising space. For example, present a carousel of enticing advertising images or a video montage on the machine's home screen. In the end, the iShopFood self-serve kiosk is a versatile and efficient tool. Moreover, it perfectly adapted to your needs. Enjoy a personalized and contemporary service for your business!
Restaurant self-serve kiosks are an efficient and modern way to optimize services and increase sales for your business. Take advantage of this ordering method with rising popularity right now. Learn more about our services by visiting one of our information pages. In addition, you can contact us by filling out this form and get a solution tailored to your needs! And don't forget to follow us on Facebook!