Le Laurier : Online Ordering & Self-serve Kiosk
12 January 2017

|

Mobile app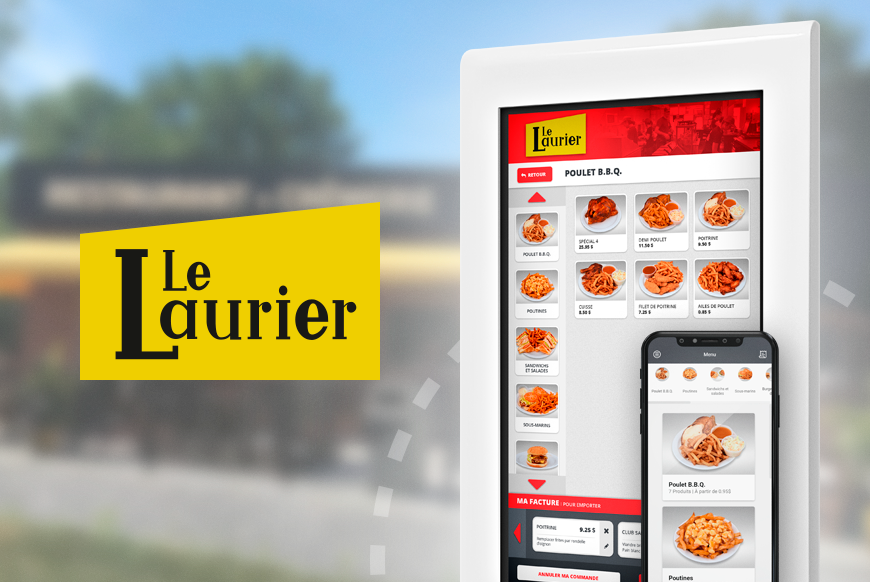 In order to continue offering a service that is as efficient and professional as ever, Le Laurier optimizes its operations! The restaurant's customers can now use the online ordering or order on-site with the self-serve kiosk.
A renowned establishment in Saint-Hyacinthe, Le Laurier offers a cuisine combining comfort and conviviality as well as a quick and friendly service. Founded in 2000, the chip shop will quickly become an institution in the region. Le Laurier's family and its clientele are still expanding. Some find the best fries and poutines. Others will enjoy their Italian dishes or their succulent chicken. In other words, one thing is certain: everyone can find what they like!
More than a simple chip shop, Le Laurier is also an ice cream shop! Indeed, one can order a multitude of frozen treats. From the classic soft cream dipped in chocolate and milkshakes, to sorbets and gelato.
For evenings at home or with friends, the restaurant offers an effective delivery service from 16h.
Partnership with iShopFood
The online order can be done directly on the website or the Facebook page of the company. Le Laurier also has its own online mobile order application with branding colors. The app is available on the App Store and Google Play.
Le Laurier allows ordering with the iShopFood self-serve kiosk in the restaurant. With its intuitive interface and speed of execution, the kiosk optimizes counter services and speeds up the ordering process. Local customers can therefore enjoy the restaurant's frozen desserts even more quickly, customized directly on the self-serve kiosk.
Thanks to the technologies provided by iShopFood, Le Laurier can optimize its operations, increase its sales and improve its visibility. For more information on the various iShopFood services, such as online ordering with custom mobile app or the self-serve kiosk, visit our service pages.