Rotisseries au Coq : Menu Boards
29 January 2020

|

Digital menus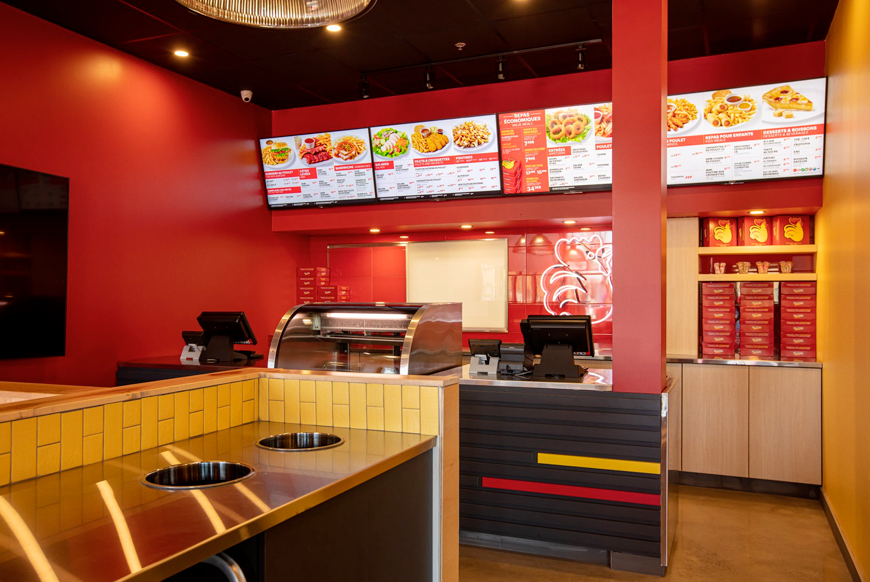 Au Coq has good news! In addition to the opening of two new branches, Rotisseries Au Coq now display their menu on screen thanks to the iShopFood digital menu boards. The restaurant's delicious menu will make your mouth water even more!
Two new locations!
At the Rotisseries Au Coq, chicken has been a passion for over 50 years! The unique taste of Au Coq's roasted chicken comes mainly from the attention paid to its slow cooking for three hours, which gives it all its tenderness and flavor. Expertise passed down from generation to generation!
Proud of its four current branches, Rotisseries au Coq offer two new locations to serve their customers: Saint-Laurent and Dollard-des-Ormeaux. Fans of the chain will now be able to access the vast menu available in restaurants even more easily.
Rotisserie au Coq – Saint-Laurent
1110 boul. Marcel-Laurin Saint-Laurent, QC H4R 1J7 514-334-7575
Rotisserie au Coq – Dollard-des-Ormeaux
3500 boul. des Sources
Dollard-des-Ormeaux, QC H9B 1Z9
514 421-6267
Menu Boards at Au Coq's service
In order to continue a solid cooperation between the company and iShopFood, Rotisseries au Coq now display their daily menu via screen thanks to the digital menu boards! In addition to presenting their menu in a colorful and animated way via a custom design, the company can display specials of the day and new products. Thus, the products and prices displayed are 100% synchronized with the POS system in place. Thus, the menu remains constantly updated. The optimization of services continues at the Rotisseries Au Coq thanks to a brilliant collaboration with the iShopFood platforms!
Take advantage of iShopFood ordering services by visiting Ratisseries au Coq's online ordering. The Au Coq mobile app is also available on the App Store and Google Play.
Take advantage of digital menu boards for restaurant menus now. Learn more about our services by visiting one of our information pages. In addition, you can contact us by filling out this form and thus obtain a tailor-made solution for your needs! And don't forget to follow us on Facebook!