Tartar Station : Self-serve kiosk & Online ordering
25 October 2017

|

Online ordering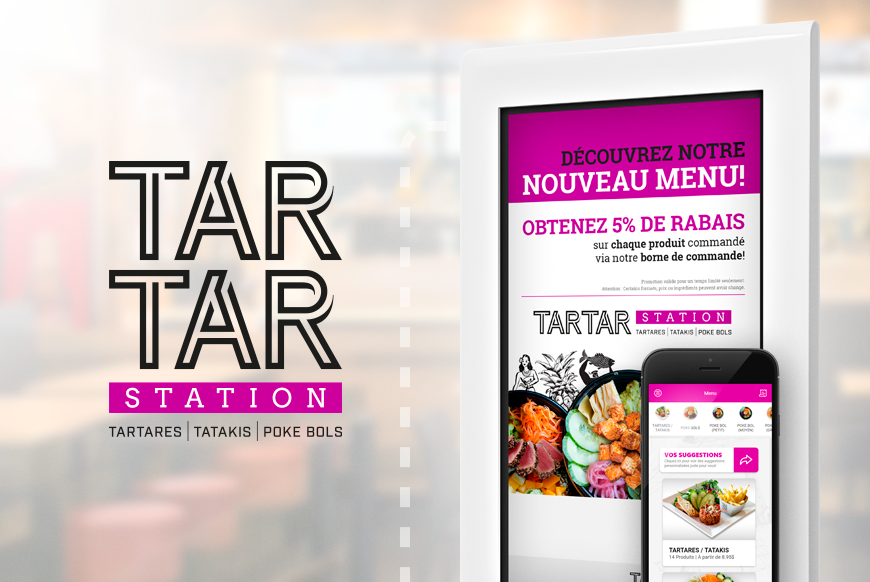 At Tartar Station, meals-in-a-hurry are even easier with iShopFood's self-serve kiosk and online ordering services. Enjoy a range of tartar and poke bowls made with fresh ingredients. Customize your orders too via the iShopFood services.
A new concept of fast food!
Tartar Station arrives in Quebec: A new concept of fast food with tartares, tatakis and poke bowls on the go. With its varied and flavor-rich menu, the meals-in-a-hurry will never be the same again. A multitude of combinations are available to all, at any time, according to the aspirations of the moment.
Guests can enjoy a wide range of tartars and tatakis, offered as appetizer or as meal. Tartar Station can turn regular items into poke bowl, with a side of rice, rice vermicelli, or quinoa. In addition, a menu on the go is also available, offering fried squid, green apple salad, red cabbage salad and other items.
Every thing is served by a smiling and qualified staff, in a welcoming and relaxed atmosphere. Furthermore, the fast and efficient service will satisfy the most urgent customers.
iShopFood: Crank it up!
To offer an ever more optimal service, Tartar Station now allows its busy customers to order on the iShopFood self-serve kiosk. Indeed, customers can fully customize their order, choose their flavors and select their ingredients. In this way, Tartar Station limits the possibility of human error. In short, all the services related to taking orders are optimized. Sales are also impacted positively since the possible number of clients and the average bill increase.
Furthermore, Tartar Station is accessible via iShopFood's online ordering. Items can be ordered online directly on the restaurant's website. Subsequently, orders can be received at the counter or by delivery.
To learn more about iShopFood's self-serve kiosks and online ordering services, visit one of our information pages.